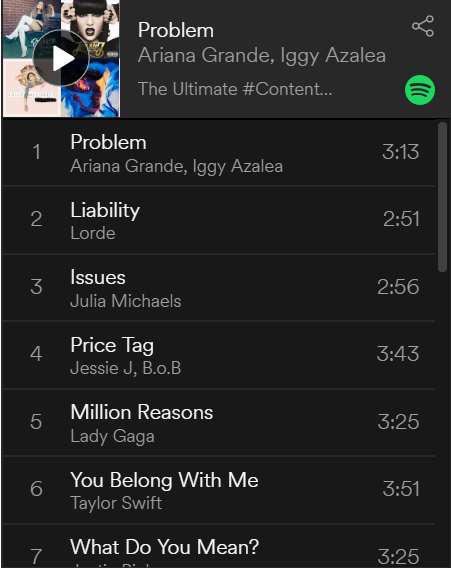 The Ultimate Content Marketing Playlist
The Ultimate Content Marketing Playlist
What stage of the customer journey are you in? Whatever is it, there is a song to get you through it. Enhance your customer experience with this catchy mix of songs that are sure to spur action, no matter what the next step of your customer journey may be. You can also find the #ContentMarketingPlaylist on Spotify.
Awareness
Are you just starting to realize you have a problem? Come to terms with your unmet needs with these songs about awakening self-awareness.
Interest
As you set off on your search for a solution to your problem, let these inspirational songs help you pinpoint the decision-making criteria you need to compare and contrast viable options. After all, there is a solution out there for everyone.
Price Tag – Jessie J ft. B.o.B
Million Reasons – Lady Gaga
You Belong With Me – Taylor Swift
Consideration
Decision making is tough. How do you choose between several possible solutions? As you dive into the details of your shortlist, remember your end goals and read the fine print.
What Do You Mean? – Justin Bieber
That's What I Like – Bruno Mars
I'm the One – DJ Khaled ft. Justin Bieber, Quavo, Chance the Rapper, Lil Wayne
Purchase
Time to make your move! As you seal the deal, listen to these songs to acknowledge the leap you're taking and feel the rush of accomplishment that accompanies checking a task off the to-do list.
It's Secured – DJ Khaled ft. Nas, Travis Scott
Engagement
Now that you're in this together, it's important to stay in tune. Let these songs help you harmonize and follow through on those promises…after all, you don't want cognitive dissonance to set in!
Can't Stop the Feeling – Justin Timberlake
Loyalty
We all know the importance of retaining customers as it can be between five to 25 times more expensive to acquire a new customer than to keep an existing one. Slow down the churn and get your ABM team jamming to these songs about loyalty.
Loyalty– Kendrick Lamar ft. Rihanna
We Can't Stop – Miley Cyrus
Referral
When you've found the right solution, you want to share it with the world (how else will you become an influencer?). Here are some songs to help you shout it from the mountaintops…or at least click the 'share' button.
Groupie Love – Lana Del Rey ft. A$AP Rocky
Scream and Shout – will.i.am ft. Britney Spears
Get the Ultimate #ContentMarketingPlaylist on Spotify
For easy access to inspiration at any step of the journey or time of day, get the official #contentmarketingplaylist on Spotify here:
What do you listen to when you evaluate products and services? Let us know and help us in our quest to build out the ultimate #contentmarketingplaylist!